Councillor Raj Sharma - Mayor of Crawley 2019-2020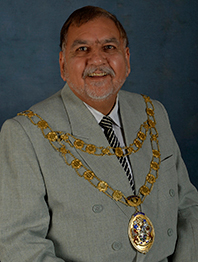 Raj Sharma was elected to represent Southgate ward in 2014. He was born in Delhi, India, in 1952 and moved to Crawley in 1992. He was previously Mayor of Crawley in 2016-17.
He began his career in 1976 as a tutor at Featherstone Dovetail Youth Wing in Southall, West London. In 1992 he started working in Crawley as a Neighbourhood Youth Worker at Crawley Youth Centre and in 2012 he became Centre Manager at Crawley Youth and Community Centre.
Raj, who lives in Furnace Green, enjoys, swimming, badminton, kite flying, travelling, collecting stamps and coins, but most of all spending quality time with family, friends and his four grandchildren.
Raj sits on various bodies including Crawley Campaign Against Racism, Crawley Town Twinning Association, Southgate Conservation Area Advisory Committee, Southgate Community Forum, Courage Dyer Recreational Trust, Gatwick Airport Community Trust, the Friends of Goffs Park and is an ambassador for The Sussex Football Association.
The Mayor's Charity
The Mayor's charities for 2019-20 are The Posh Club and Manor Green College.
The Posh Club is a glamorous performance and social club for around 100 older people held weekly in Broadfield. Each three-and-a-half hour event is styled as a tongue-in-cheek 'posh' 1940s afternoon tea with three live showbusiness turns, volunteer waiters in black tie, vintage crockery and an in-house pianist.
Manor Green College is a dynamic and inspirational West Sussex secondary school for students between the ages of 11-19 who experience a wide range of learning difficulties. The college actively promotes strong personal and community values helping students to live happy, productive and successful lives.
To invite the Mayor to an event, please use the form below:
Deputy Mayor of Crawley
Councillor Shahzad Malik is Deputy Mayor for 2019-2020.