Councillor Carlos Portal Castro - Mayor of Crawley 2018-2019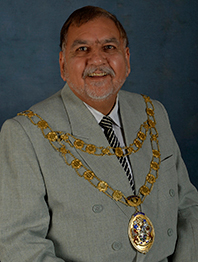 Carlos Portal Castro was elected to represent Tilgate ward in 2016. He was born in Lisbon, Portugal, in 1975 and moved to the UK in 2009, first to Cardiff and then to Crawley in 2013. He worked as a manager for Superdrug in Wales and in Horsham until 2015, before leaving to work for Santander in Queens Square.
Carlos, who lives in Tilgate, enjoys taking walks with his wife, listening to all sorts of music and playing with his children and granddaughter.
Carlos sat on the Tilgate Community Forum until being elected as a councillor. He represents the Black Tie Portuguese Group, which aims to promote diversity, inclusion and Portuguese culture in Crawley.
The Mayor's Charity
The Mayor's charity for 2018-19 is Forget Me Nots Crawley, who work to support, advise, signpost, befriend and enable family, friends and carers of people living with Dementia.
To invite the Mayor to an event, please use the form below:
Deputy Mayor of Crawley
Councillor Tahira Rana is Deputy Mayor for 2018-2019.